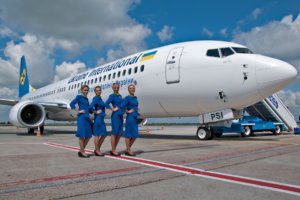 Ukraine International Airlines (UIA, Kyiv), a leading airline in the country, tentatively saw UAH 304.5 million of net loss in 2017 compared with UAH 387.885 million of net profit in 2016. The information is outlined in the agenda of the general meeting of the company's shareholders scheduled for April 25, 2018.
The company's assets as of December 31, 2017 were UAH 4.222 billion, which is 16.2% more than a year ago.
Total bills receivable grew by 6%, to UAH 1.763 billion, and uncovered loss – by 12%, to UAH 2.834 billion. Noncurrent liabilities fell by 28%, to UAH 550.9 million and current grew by 21.1%, to UAH 6.214 billion. Net worth last year rose by 12.6%, to UAH 2.542 billion.
Ukraine International Airlines was founded in 1992. It connects Ukraine with more than 50 cities and key points in Europe, Asia, America, Africa, the Middle East and the CIS countries and provides connection with the routes of partner airlines in more than 3,000 cities of the world. UIA performs more than 1,100 regular flights a week.