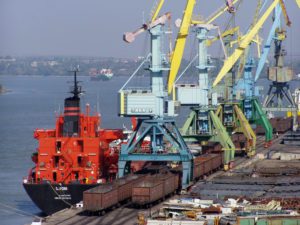 The Ukrainian Sea Ports Authority has completed work on operational dredging in Mykolaiv seaport.
According to the agency's press service, the total amount of work exceeded 890,000 cubic meters. The implementation of the project allowed bringing the depths on the approach channel of Mykolaiv port to 11.2 meters, and in the water area of Dnipro-Buzsky port to 11.5 meters.
"Restoring passport depths allows private and state-owned stevedoring companies to fully utilize the technical capabilities of port infrastructure, reduces the cost of marine logistics and makes products of Ukrainian manufacturers more competitive in the world market," the press service said citing Head of the Ukrainian Sea Ports Authority RaivisVeckagans.
The administration notes that Mykolaiv became the fifth of seven ports where the agency planned to conduct operational dredging in 2019.
As reported, for the nine months of 2019 volume of cargo transshipment in the port amounted to more than 23 million tonnes, which is 20.4% more compared to the same period last year.