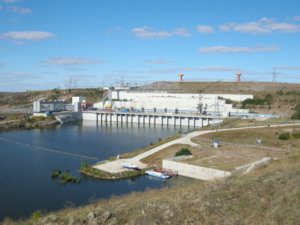 PJSC Ukrhydroenergo in January-September 2018 saw net profit rise by 22% compared to the same period of the previous year, to UAH 2.298 billion.
According to the financial statements posted on the company's website, net income for the three quarters grew by 21% (UAH 991 million) and amounted to UAH 5.524 billion, gross profit by 29%, to UAH 3.272 billion.
As reported, in 2017 Ukrhydroenergo saw net profit fall by 33.7% (UAH 744.185 million) compared to 2016, to UAH 1.466 billion, net income by 4.7% (UAH 281.413 million), to UAH 5.716 billion, gross profit by 12.6% (UAH 423.322 million), to UAH 2.949 billion.
Ukrhydroenergo operates all the major hydroelectric power stations located in the Ukrainian parts of the Dnipro and Dniester rivers. The total installed electric capacity of the hydropower plants of the company (103 hydroelectric units) is 5,758 MW. The state represented by the Ministry of Energy and Coal Industry owns 100% of the company's shares.