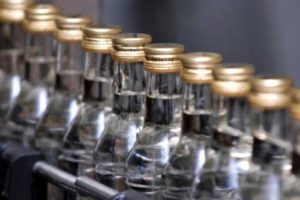 The state-owned enterprise (SOE) Ukrspyrt in 2019 will invest UAH 311 million in the electronic finished and shipped product accounting system and modernization of production facilities, the press service of Ukrspyrt has told Interfax-Ukraine.
The press service said that investment in the introduction of the e-accounting system would be around UAH 40 million.
In addition, the company plans to install feed additives lines at the sites where the company operates in Lviv and Sumy regions with an annual total production capacity of 32,800 tonnes.
Ukrspyrt also plans to expand production of raw spirit by 9,800 tonnes at the sites in Lopatyn and Sukhodoly, launch production of bioethanol with an annual capacity of 24,400 tonnes in Storonybaby (all based in Lviv region), modernize the production site in Tkhorivka (Kyiv region) for production of service fluids with a total capacity of 4,080 tonnes a year.
The press service said that Ukrspyrt plans to install energy saving equipment at two sites in Lviv region and one site in Sumy region.
In March, the company's strategic plan for 2019-2023 with investment of UAH 1.53 billion was approved by the Agricultural Policy and Food Ministry of Ukraine.
"First of all, these funds will be sent to the production of new types of products (bioethanol, raw spirit, high-protein feed additives, biogas and carbon dioxide), as well as the installation of energy saving equipment. In addition to our own funds, we plan to attract short-term funding from Ukrainian banks," the press service of Ukrspyrt reported.
The company is also considering investments from foreign partners. In particular, Ukrspyrt is holding talks with Chinese partners on investments in the production of bioethanol and additional products on the basis of three existing production sites.