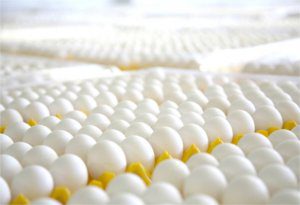 Ovostar Union, a leading shell egg and egg products producer in Ukraine, saw a 2% rise in net profit in 2017, to $22.9 million.
According to a report of Ovostar published on Friday, revenue last year grew by 27%, to $98.7 million, and gross profit – by 18%, to $30.8 million.
Earnings before interest, taxes, depreciation and amortization (EBITDA) grew by 10%, to $26.5 million.
Assets rose by 19%, to $131 million, noncurrent liabilities narrowed by 20%, to $9.8 million and current grew by 52%, to $14.3 million.
Total debt fell by 11%, to $13.6 million, and cash and cash equivalents – by 23%, to $15 million.
The shell egg segment generated 69% of total revenue, the egg products segment – 30% and oil segment – 1%. Export revenue doubled, to $47.7 million. The share of products sold in Ukraine was 52%, that in the Middle East – 30%, the EU – 15% and other countries – 3%.
In 2018, Ovostar's export sales are expected to generate around 50% of its total revenue, provided that no external factors negatively influence the egg industry.
"In terms of operating results, we expect the share of export in total sales volume of shell eggs to remain over 40%, of dry egg products – over 70% and of liquid egg products – over 40%," the company said.
During 2017 the company decided to put the construction of new poultry houses on hold due to the recorded cases of avian influenza in the south of Ukraine, which led to restrictions in export of shell eggs from Ukraine.
"In 2018 we aim to continue expanding the production facilities and are intended to construct two poultry houses for laying hens, two rearing houses and a fodder mill," the company said in the report.