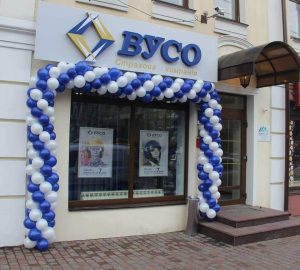 PrJSC Insurance company VUSO (Kyiv) in January-June 2020 collected UAH 454.027 million of gross premiums, which is 2.52% more than in the same period in 2019, the rating agency Standard-Rating reports, confirming the company's financial strength rating at "uaAA" on the national scale, based on the analysis of the company's performance for the first half of 2020.
According to the agency report on its website, income from individuals increased by 23.53%, to UAH 323.406 million, and from reinsurers, on the contrary, decreased by 56.64%, to UAH 24.531 million. Thus, the share of individuals in gross premiums increased to 71.23%, while the share of reinsurers decreased to 5.40%, while individuals continue to prevail in the insurer's client portfolio.
Insurance premiums sent to reinsurers for the first half of 2020 compared to the same period in 2019 decreased by 2.81%, from UAH 185.871 million to UAH 180.644 million. As a result, the coefficient of dependence on reinsurance companies decreased from 41.97% to 39.79%, or 2.18 percentage points.
The insurer's business activity indicators in the period under review showed a growing trend: net premiums increased by 6.38%, to UAH 273.383 million, and premiums earned by 39.34%, to UAH 330.473 million.
For the six months of 2020 VUSO paid out to its clients UAH 16.846 million of insurance compensations, which is 35.57% more than the volume of payments for the same period in 2019. At the same time, the level of payments increased from 27.62% to 36.53%, or by 8.91 percentage points.
The company's assets as of June 31 increased by 8.92%, to UAH 693.585 million.