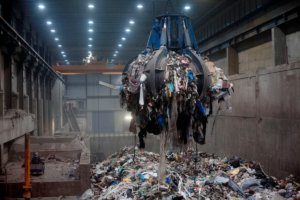 PrJSC Kyivspetstrans plans to build a waste treatment plant with a capacity of 450,000 tonnes of garbage a year worth EUR60 million, board chairman of the company Andriy Hruschynsky has said at a press conference. "Kyivspetstrans plans to construct a waste processing plant, which should replace the capacity of solid waste landfill No. 5 to finally close it, reclaim it and put it in order. We focus on a mechanical-biological technology: it's more modern and environmentally friendly technology than garbage incineration," he said.
According to the expert, the company plans to attract international companies with experience of similar projects as designers and contractors of construction. Companies from Germany and Poland have already expressed interest.
"We believe that such a project can be realized in two years – the time it takes to develop a project, to order and manufacture equipment," he said.
He noted that several sites are being considered for the construction of the plant. To finance the project, it is planned to attract loan funds.
"Such projects need credits, and such large infrastructure facilities for the territorial community can be credited at institutions. We focus on the EBRD, as they give the best conditions," Hruschynsky told Interfax-Ukraine.