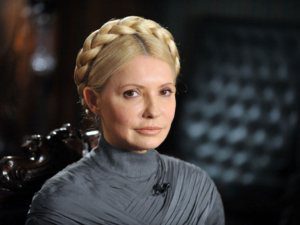 Batkivshchyna Party leader Yulia Tymoshenko leads the pack of presidential candidates, according to the results of a poll conducted by the Rating sociological group from July 20 through August 3, 2018. When asked who respondents would vote for in the event of presidential elections next Sunday, 17.7% of those who will take part in the vote named Tymoshenko. She was followed by the leader of Civil Position Party Anatoliy Hrytsenko with 10.7%, Opposition Bloc leader Yuriy Boiko with 8.9%, Radical Party leader Oleh Liashko with 8.5% and incumbent Ukrainian President Petro Poroshenko with 8.3%.
Some 8% of respondents said they would vote of Servant of the People Party leader Volodymyr Zelensky and musician Svyatoslav Vakarchuk each, and 5.9% for "For Life" Party leader Vadym Rabinovych. The rating of other candidates is less than 3%. Almost one in five did not decide.
According to the results of the poll, Tymoshenko has strong electoral positions in all macro regions, with relatively higher indicators in the western, central and southern regions of the country. The main electoral base of Hrytsenko is more concentrated in the western and central regions, while Poroshenko is supported more or less evenly in all macro regions, with the exception of eastern regions. Liashko is more supported in southern and central regions of the country, and Vakarchuk in western regions. Supporters of Boiko, Rabinovych and Zelensky are concentrated in eastern and southern regions.
Poroshenko continues to lead in the anti-rating category, with 50.4% of respondents saying they would not vote for him under any circumstances. He is followed by Tymoshenko, Liashko and Arseniy Yatsenyuk, who would not be supported in any case by 26-29% of those polled.
Some 16% of respondents believe that the next president will be Tymoshenko, 12.7% see Poroshenko as their president, 6.7% – Boiko, 4.7% – Zelensky, 3.7% – Liashko, 3.4% – Hrytsenko, 2.9% – Vakarchuk and 1.9% – Rabinovych. Almost 40% of respondents could not predict who will be the next president of the country.
From 45% to 65% of respondents said they know little what the leading presidential candidates plan to do once in office.
There is a relatively higher level of awareness among respondents of the plans of Tymoshenko (46%). Fewer know about the initiatives of Liashko (39%) and Poroshenko (36%). Almost 60% of respondents do not know anything about the plans of Boiko and Hrytsenko. Two thirds of the respondents know nothing about the plans of Zelensky and Vakarchuk.
Almost half of those polled said they would definitely vote in the presidential elections, one in five more likely than not.
The survey was conducted by the Rating sociological group from July 20 to August 3, 2018. The study covered the entire adult population of Ukraine using a representative sample based on age, gender, region and type of residence. Some 2,000 persons took part. The survey's margin of error is no more than 2.2%.