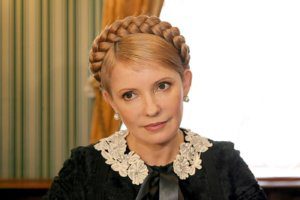 If presidential elections in Ukraine were held in the middle of June 2018, Batkivschyna Party leader Yulia Tymoshenko would receive the most votes, followed by Civil Position Party leader Anatoliy Hrytsenko and Opposition Bloc leader Yuriy Boiko, according to the results of a poll conducted by the Rating Sociological Group.
Some 16% of respondents said they would vote for Tymoshenko, 11.7% for Hrytsenko and 10.5% for Boiko, according to poll results, according to which showman Volodymyr Zelensky would receive 9.3%, with Radical Party leader Oleh Liashko, musician Sviatoslav Vakarchuk and acting Ukrainian President Petro Poroshenko receiving 8.6%.
Some 52% of those polled said they would not vote for Poroshenko under any circumstances, with 30% saying the same of ex-Prime Minister Arseniy Yatsenyuk. Liashko's anti-rating was 23.8%, followed by Boiko with 23% and Tymoshenko with 20.8%.
Some 66% of those polled said they thought the presidential elections would not be free and fair, with only 12% believing the opposite. Some 22% had difficulty answering the question. Almost 64% favored punishing candidates who will give "material assistance" to people in exchange for votes, while 23% are not against receiving "material assistance."
The survey was carried by means of face-to-face interviews from June 14 to June 24, 2018. Some 2,500 Ukrainian citizens over the age of 18 comprising a representative sample by sex, region and type of residence took part in the survey, which has a margin of error of no more than 2%.
BOIKO, CANDIDATE SURVEY, HRYTSENKO, POROSHENKO, YULIA TYMOSHENKO