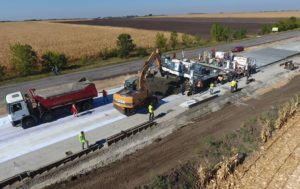 Acting Head of the State Agency of Automobile Roads of Ukraine (Ukravtodor) Slawomir Nowak has said hopefully Zaporizhia-Mariupol highway will be repaired by the end of 2019.
"We have a very ambitious goal: to complete Zaporizhia-Mariupol corridor this year. Large-scale funding was provided to complete these works, because this corridor is very important for the whole country. This is 'the road of life' for Zaporizhia and Donetsk regions, for Mariupol as well, thus we want to work so fast to be able to complete the construction," Novak told the journalists during a visiting meeting.
He said the works are carried under constant supervision of the agency.
According to the Ukravtodor, the total length of the site is 209 km (41.3 in Donetsk region and 167.6 km in Zaporizhia region). Meanwhile, 54.1 km of roads have already been repaired (10.1 in Donetsk region and 44 km in Zaporizhia region).
Inter alia, the highway workers plan to repair 80.4 km of road in Zaporizhia region worth UAH 1.567 billion, and 31.2 km of road in Donetsk region worth UAH 840.6 million.
As reported, the Cabinet of Ministers of Ukraine has addressed a balance of funds of the Ukravtodor in an amount of UAH 1.920 billion and unappropriated expenditures of 2019 in an amount of UAH 94.142 million for the development of the principal highways.
The government passed a respective decision at its meeting on Wednesday.
According to an explanatory note to the document, over UAH 1.240 billion will be allocated for continuation of the permanent medium repairs of Boryspil-Dnipro-Zaporizhia-Mariupol highway enroute Zaporizhia-Mariupol, extra UAH 400 million will be spent for Dnipro-Mykolaiv highway (Dnipropetrovsk region) repairs in 2019.