The COVID-19 crisis has taken a heavy toll on human life, as well as damaged economies and livelihoods. Vaccines have emerged as the best way to ensure not only public health security, but also restore economic sectors affected by the crisis. In this context, the Government of Ukraine had reached out to the Government of India for support.
Given India and Ukraine's multifaceted and strong bilateral relations, the Embassy of India in Ukraine, with the support of the Government of India, has facilitated the supply of vaccines to Ukraine in February, in order to initiate Ukraine's public vaccination drive. Ukraine is one of the early countries to receive vaccine from India in February.
President Volodymyr Zelenskyy made a personal request to Prime Minister Modi. In addition, sustained efforts by the Ministry of Health of Ukraine in collaboration with the Ambassador of India in Ukraine Partha Satpathy have ensured that necessary agreements and permissions could be concluded on time for supply the first tranche of vaccines- 500,000 doses of Astra-Zeneca and Serum Institute of India developed COVISHIELD vaccine.
Going forward, larger quantities of Made in India vaccines are expected to be supplied as production is ramped up in India. There is regular contact between the Governments of Ukraine and India, and with vaccine manufacturers, to secure more vaccines for Ukraine. This supply of vaccine is another exemplar of the major role played by Indian pharmaceutical industry in ensuring the health security of Ukraine.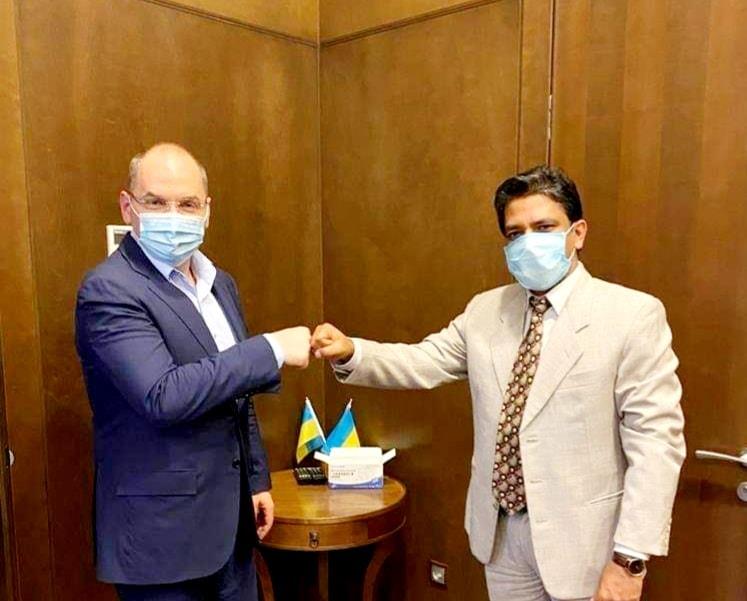 Pictures:
Ambassador's meeting with Health Minister Maksym Stepanov