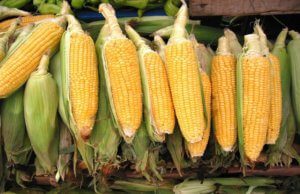 Ukraine's Agricultural Policy and Food Ministry predicts that corn harvest in Ukraine would increase by 19.4% in 2018 compared with 2017, to 29.5 million tonnes.
"We expect the corn harvest this year to be about 29.5 million tonnes, while the export of the crop this agricultural year [2018/2019 agri-year, July-June] will amount to 22 million tonnes," First Deputy Minister of Agricultural Policy and Food Maksym Martyniuk said at a press conference on Tuesday.
The ministry estimates that the wheat harvest in 2018 may decrease by 7.6%, to 24.2 million tonnes, barley by 13%, to 7.2 million tonnes, rye – by 15%, to 0.38 million tonnes, buckwheat – by 25%, to 0.14 million tonnes, soybean – by 2.6%, to 3.8 million tonnes, and sugar beet – by 10.7%, to 13.3 million tonnes.
The harvest of sunflower can grow by 9.8%, to 13.4 million tonnes, and rapeseed – by 18.2%, to 2.6 million tonnes.
The areas planted with crops for the 2019 harvest will be 8.09 million hectares, in particular 6.2 million hectares with winter wheat, 0.89 million hectares with winter rape, and 0.87 million with winter barley.