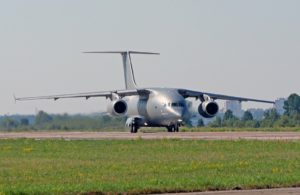 Turkey showed interest in the Ukrainian An-178 aircraft, this issue was discussed at a meeting of Interior Minister of Ukraine Arsen Avakov and Interior Minister of Turkey Süleyman Soylu.
"Our An-178 aircraft is presented at the modern technology exhibition in Istanbul, which we are honored to attend. The Ministry of Internal Affairs of Ukraine plans to purchase 13 such aircraft for the State Emergencies Service to eliminate fires and for the National Guard. I hope the Turkish side will pay attention to our An-178," the press service of the Ministry of Internal Affairs quoted Avakov as saying.
In turn, the Turkish interior minister praised the An-178 and expressed interest in this aircraft.
"The An-178 is a very good aircraft. In addition, our Mi-17 helicopters are being modernized in Ukraine, six of which we have already received. For us, this is an example of very successful cooperation with you," Soylu said.
Avakov invited him to visit Ukraine. "I really hope that you will visit Ukraine at the end of the month. We will have large-scale exercises that you should see. In addition, I will show you new modernized models of the Mi-8 helicopter. And Airbus will present the helicopters that they supply for the Ministry of Internal Affairs of Ukraine," he said.
In response, Soylu suggested that he would most likely come to Ukraine.
The multi-purpose transport aircraft An-178 was developed at the Antonov state-owned enterprise, which is part of state-run Ukroboronprom. About 200 companies from 15 countries are involved in production cooperation under the An-178 program.
The flight altitude of the An-178 is 12 km, the range is 5,500 km, and the maximum speed is 825 km/h. The aircraft has a modified fuselage shape, a ramp for loading and unloading oversized cargo and is capable of transporting up to 18 tonnes of cargo, including heavy sea containers. It can land and take off from any airdromes, including unpaved ones.
The An-178 made its first flight on May 7, 2015. In July 2018, Ukroboronprom presented the An-178 at the Farnborough Airshow international aerospace show, where the aircraft performed a demonstration flight.