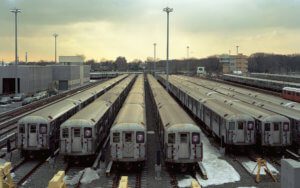 The Aurum Group, a multi-profile industrial and investment group, plans to invest in development of some sectors to increase its competitiveness, in particular, some UAH 100 million in development of wagon building and some UAH 50 million in agricultural business, the group has said in a press release. "According to the long-term development strategy of Aurum Group, this year we plan to invest about UAH 100 million in the development of the private rolling stock of the country in order to minimize the existing acute shortage of gondola cars and grain carriers," the group's founder Alona Lebedieva said in a press release.
According to her, the funds will be used to build new railway freight cars on the basis of the Diesel Plant LLC, which is part of the group, which will later be transferred to the management of the leasing company of the group – Trans Energy LLC.
According to the press release, UAH 30 million has already been allocated for technical re-equipment of the foundry, thanks to which an automatic molding line has been bought and ready for installation. It uses the method of cold-hardening mixtures produced by Omega Foundry Machinery (Great Britain).
"The modernization of the foundry production of the group will allow, with a reduction in the cost of production, to make high-precision castings with high efficiency. The line will also meet the needs of the Diesel Plant in the production of medium-carload molding, for example, parts like the front and rear stop. Later the plant plans to mold more railway products," Lebedieva said.
She also announced the intention to more actively develop a new agricultural division for the group this year, where it is planned to invest about UAH 50 million. In particular, it is planned to build the entire production chain – from planting, storing and processing agricultural products.
Lebedieva said that if before 2018 Aurum Group planted only grain and a number of niche crops (flax, mustard, millet), then taking into account the market situation and, according to the group's development strategy, this year efforts will focus on the creation of a product with high added value.
In addition, according to the founder of the group, transactions to invest in domestic IT projects, details of which have not yet been disclosed, are at the stage of completion. "Ukrainian IT specialists are in great need of additional financing, and we plan to invest in several projects like this in 2018. I would be happy if our participation will contribute to the fact that these talented guys will remain in the country," the founder of Aurum Group said.