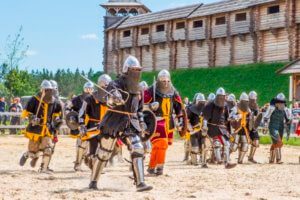 On November, 24 in the «Kyivan Rus Park» the final competitions of the Interregional Medieval Combat Tournament «The Hero-Knight of the Kyivan Detynetz» will take place and on November, 25 there will be the «Winter Knocking on the Gates» show-program with horse-trick performances, live vocal and ancient Slavic amusements.
Ancient Kyiv opens at 10:00. The program starts at 13:30 and lasts till 18:00.
The ticket price: a full adult ticket for November, 24 – 200.00 UAH, November, 25 – 150.00 UAH; for pensioners and students – 100.00 UAH; for schoolchildren – 50.00 UAH, for preschool children – for free. Attention, sale! From November, 10 till November, 25 2018 the Kyivan Prince Volodymyr has prepared a gift – a possibility to have rest for a half-price. Buy two adult tickets at the price of one!
Ancient Kyiv in the Principality of Kyivan Rus is not far from modern Kyiv – only in a 45-minutes' drive – in the Kyiv region, Obukhiv district, vill. Kopachiv. Route taxis leave from Kyiv from the «Vydybitchi» metro station (the exit from the metro to the «Fourchette» supermarket), according to the schedule on the website.
Promo action for the Interfax subscribers: with the "openbusiness-20" promo code a free admission to the wooden architecture museum!