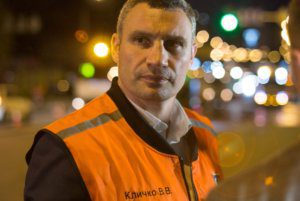 After the overhaul of the big orbital road the transport burden on central streets in Kyiv would decrease, as transit vehicles would avoid central roads, Kyiv Mayor Vitali Klitschko has said. The press service of the mayor of Kyiv reported that during the inspection of the construction of the overpass and the junction on the orbital road, in the section from Marshal Rokosovsky Street to Bohatyrska Street, Klitschko said that the main thoroughfare in this section will be about 2 kilometers. The plan provides for the construction of 2 new overpasses, an underground pedestrian crossing, the installation of an embankment, the re-laying of all communications and utility networks. Also landscaping of the adjacent territory will be provided.
According to him, now work has been done to prepare for the construction of overpasses through Bohatyrska Street and through the railway. The tunnel part of the underground pedestrian crossing was made. The development of earth embankment has begun. All the work at the site should be completed next autumn.
Also Klitschko checked up how works on overhaul of Kulzhenko Family Street are being conducted. After the repair there will be a direct exit to the orbital road, which is currently under construction. This will significantly relieve the area of Taras Shevchenko Square from especially transit transport, this will reduce the number of "traffic jams" in the area. Klitschko reminded that over the previous two years more than 500 kilometers of roads were repaired in Kyiv. And at least 300 kilometers are planned to be renewed this year.