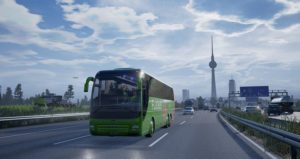 Germany's low cost bus operator FlixBus (Berlin) has signed an agreement of cooperation in Ukraine with Gunsel company, according to which starting from August 19, 2019 three joint bus lines will be serviced, FlixBus Managing Director in Poland and Ukraine Michal Leman and Gunsel Group General Manager Kocak said at a press conference in Kyiv on Tuesday, an Interfax-Ukraine correspondent has reported.
Leman said that, in particular, in cooperation with Gunsel, the following lines will be added to the FlixBus network: Kyiv-Warsaw (via Lublin, daily), Kyiv-Wroclaw (via Zhytomyr, Rivne, Lviv, Krakow, Katowice, three times a week), Kyiv-Prague (via Zhytomyr, Rivne, Lviv and Hradec Králové, three times a week).
"The new lines that will be added to our network will allow Ukrainian FlixBus passengers to get access to several hundred of our European destinations, thanks to transfers that can be made at FlixBus hubs in Warsaw, Krakow, Wroclaw and Prague," Leman said.
He added that currently FlixBus services five routes from Kyiv in conjunction with the Euroclub company (Berlin, Vienna, Budapest, Krakow and Paris). At the same time, FlixBus plans to open routes from Odesa, Kharkiv and Dnipro by the end of 2019.
"I am very glad that today the Ukrainian company Gunsel became a FlixBus partner in Ukraine. This is only the beginning of the journey… I had a conversation yesterday with the new governor of Kyiv region, Mykhailo Bno-Airiian, and he is very interested in meeting with FlixBus and launching internal trips in Kyiv region. I am interested to hold a meeting of your office [FlixBus] with Kyiv carriers," Infrastructure Minister of Ukraine Volodymyr Omelyan said at the press conference.