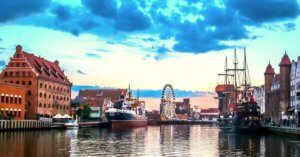 The Industrial Development Agency of Poland (IDA) has reported that the first, most important stage of negotiations on the acquisition of the stake belonged to Ukrainian businessman Serhiy Taruta in Gdańsk Shipyard S.A. and GSG Towers Sp. z o.o has been completed.
"On March 28, the sides signed an agreement (the so-called term sheet) regarding the main terms of the final deal… The sides approved the key conditions of the deal and the schedule for the transfer of control over companies to the IDA," the IDA said on its website.
The agency said that the offer was preceded by several weeks of intensive talks launched in January 2018 after the IDA filed an application to purchase assets from the Ukrainian owner.
Earlier Taruta told Hromadske TV that his daughter held the negotiations, as he is not involved in business now.
According to the report, of the IDA, its offer is of the market nature. The finalization of the deal still requires the observation of some conditions approved by the two sides, including the approval from the Poland's antimonopoly agency.
The IDA plans to stabilize the situation at the two enterprises and continue building ships and towers for wind farms.
The IDA now owns 18.59% in Gdańsk Shipyard and 50% in GSG Towers, while the rest of the shares belong to the Ukrainian investor.
ACQUISITION, AGENCY, BUSINESSMAN, GDAŃSK SHIPYARD, POLAND'S DEVELOPMENT, TARUTA