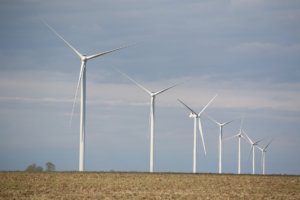 Windkraft Ukraine LLC (Skadovsk, Kherson region) by the end of this year plans to bring the installed capacity of its wind farms in Kherson region to 170 MW and the company is mulling the next project to boost them by another 150-170 MW, Windkraft Ukraine Director Carl Sturen has said. "By the end of the year there will be 170 MW: 100 MW have been added," he told Interfax-Ukraine on the sidelines of the recent YES Conference organized by the Victor Pinchuk Foundation in Kyiv, commenting on the development of the company in 2018. Sturen said that this year the company used its own funds and bank loans. According to him, to implement plans for further expansion, Windkraft Ukraine will consider various financing options.
The director said that while the company, using its own resources, began to build a substation that will allow increasing the capacity. He said that the new sites are not far from the already developed ones.
Asked why Windkraft Ukraine remains committed to wind farms, not solar power plants, which are more popular among investors due to a higher tariff and lower investment, Sturen said that he considers the windfarm business more sustainable. "The wind is more sustainable: it is more complicated, but it fits better with the energy system and is better for the consumer," the director said.