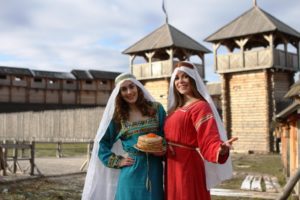 On March, 8 the «Kyivan Rus Park» invites to celebrate the International Women`s Day and on March, 9th and 10th – to the largest Maslenitsa celebration in Ukraine. This is not only the reconstruction of rites but a great kaleidoscope of entertainment and original performances. The horse show, ancient rites, the burning of a scarecrow, tasty pancakes with different fillings and the variety of dishes prepared on open fire, traditional amusements and round dances, master-classes on folk crafts, the rope descent and the children`s cube-labyrinth, museums, expositions and even the fire balls shooting from the Trebuchet will be waiting for the guests.
Ticket price for March, 8-10:
– for pensioners and students – 100 UAH,
– for schoolchildren – 50 UAH,
– for preschool children – for free,
– a full adult ticket:
– March, 8 – 200 UAH. Sale: for young ladies of 18 years and older – 100 UAH, and for young ladies under 18 – for free;
– March, 9-10 – 250 UAH.
Ancient Kyiv opens at 10:00. The program starts at 13:00.
Ancient Kyiv in the «Kyivan Rus Park» is located in Kyiv region, Obukhiv district, the vill. Kopachiv.
Route taxis leave from Kyiv from the «Vydybitchi» metro station.
Details on the website www.parkkyivrus.com
The Interfax subscribers can save money with the "openbusiness-20" promo code for a 20%-discount for a full price adult ticket to the Principality of Kyivan Rus:
– by previous order by tel.: +38 044 461-99-37, +38 050 385-20-35
– or at the cash desk at the entrance to the «Kyivan Rus Park».