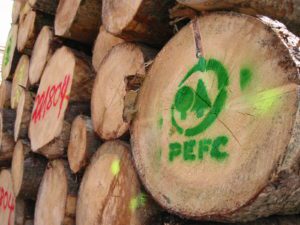 As of January 2019 4.08 million ha of forests has been certified in Ukraine, and most of the forests are kept by the State Forest Resources Agency of Ukraine, the press service of the authority has reported, referring to the Forest Stewardship Council (FSC) Ukraine. According to the authority, the certification confirms that the forestry system in the certified forests meets international requirements for management and use of forests in line with sustainable development principles.
"The regions of Ukraine with forests have a high percentage of international certification. Unfortunately, certification did not occur in the southern and eastern regions due to the lack of funding," Deputy Head of the State Forest Resources Agency Volodymyr Bondar said, adding that the authority intends to continue certification this year.
According to the State Forest Resources Agency, at the end of 2018, the Accreditation Services International (ASI) inspected the activities of audit companies for forest certification and did not reveal any violations.
The total area of forest areas of Ukraine is almost 10.4 million hectares. The forest cover of Ukraine is 15.9%. The State Forest Resources Agency manages 7.6 million hectares of forests (73% of the forest fund of Ukraine).