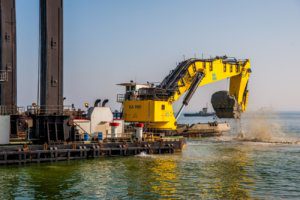 China Harbour Engineering Company Ltd. (CHEC) on August 8, 2018, began dredging on the offshore maritime approach channel to Chornomorsk Port and in the operating area of the first boot basin of the Sukhy estuary. The dredging will allow large vessels with a draft of up to 14.5 meters, such as Capesize, deadweight up to 100,000 tonnes and containerships with a capacity of 8,000 TEU to the current and planned reconstruction of deep-sea quays, the press service of the Ukrainian Sea Ports Authority (USPA) has said.
The dredging project was developed by the Infrastructure Ministry's institute and ChornomorNIIIProject. It will deepen the approach channel from 14.5 m to 16 m and extend the approach channel from 1,400 m to 1,600 m. The width will remain the same – 150 m. Dredging of the water area of the first boot basic of the Sukhy estuary will increase the depth in its central part up to 15 m. The total amount of dredging of Chornomorsk Port will be about 2 million cubic meters, including more than 500,000 cubic meters in the approach channel and about 1.5 million cubic meters in the water area. It is planned that the work on the projects will take two to five months.
The cost of the work is UAH 404.1 million without VAT. Of this amount, UAH 87.1 million will be spent on dredging of the channel, and UAH 317 million on increasing the water area. To carry out dredging in Chornomorsk, CHEC mobilized a dredging fleet of 15 vessels. All of them have already arrived in the port water area. As previously reported, CHEC was selected to conduct dredging operations at the port of Chornomorsk as a result of open tenders in the electronic public procurement system ProZorro on March 13, 2018.
CHEC also conducts dredging in the port of Yuzhny. In May 2017, the Chinese company and USPA signed two contracts, one of which has already been completed three months ahead of schedule, and the second is 70% completed.