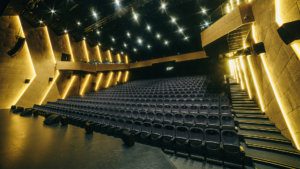 CEO of PrJSC Multiplex-Holding, developing the Multiplex cinema chain, Vitaliy Pysarenko, has signed a contract on opening the cinema with CEO of Kyiv's TsUM shopping center Yevhen Mamai. "We have signed a contract with TsUM… Wait for the most central and coolest cinema of the country next summer," Pysarenko wrote on his Facebook page last week.
As reported, early November, Pysarenko told Interfax-Ukraine that he was holding talks with managers of TsUM on the opening of a cinema in the new premium format.
"We are at the final stage of negotiations. It remains to agree on some details… In the next few weeks we will sign it [the lease agreement]," Commercial Director of Multiplex Holding Vitaliy Pysarenko told Interfax-Ukraine, confirming the company's intentions.
According to him, after signing the contract, it will take up to six months to open the cinema.
"This will be a format that corresponds to the audience of the department store itself – premium. I think it will be very popular in the center of Kyiv," Pysarenko said.
He added that the nearest cinema to the TsUM (the Oscar cinema network) operates in the Gulliver shopping center, but Multiplex intends to offer a unique format. Pysarenko did not provide more details, but added that in connection with the change of management at TsUM, the cinema operator "has high expectations regarding the new team."
In general, according to him, by the end of 2019, Multiplex plans to open about 40 more cinema halls (about five facilities).
Multiplex-Holding was founded in 2003. As of November 2018, it has 26 cinemas in Kyiv, Kryvy Rih, Mykolaiv, Cherkasy, Rivne, Khmelnytsky, Zhytomyr, Kherson, Mariupol, Zaporizhia, Dnipro, Poltava, Lviv, Lutsk, Chernihiv and Kharkiv.