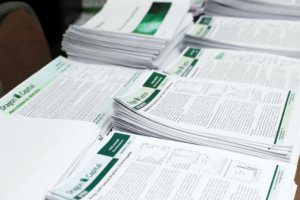 Dragon Capital Investment Fund, together with its partners, has invested $400 million into Ukrainian real estate since 2016, the press service of Dragon Capital has reported.
"Since 2016, Dragon Capital, together with its European and American partners, has invested $400 million into Ukrainian real estate. Our future investment plans will significantly depend on the pace of reforms in Ukraine, above all in judiciary and law enforcement," Dragon Capital CEO Tomas Fiala said.
The partners of the fund are Goldman Sachs, George Soros, and OPIC.
As reported, Dragon Capital Group jointly with co-investors since 2016 has been actively investing in purchase of commercial real estate, mainly in Kyiv city and region.
The portfolio of the investment fund, as of October 2018, includes several business centers – Kyiv's Prime and Eurasia, business center located at 98, Velyka Vasylkivska Street, Horizon Park, Business Center Platinum, and Zaporizhia-based Eco Tower Business Center.
The portfolio of shopping centers includes the Victoria Gardens shopping center (Lviv), Sky Park shopping center (Vinnytsia), Pyramida shopping center (Kyiv), logistics centers near Kyiv — West and East Gate Logistic, Omega 1 and Omega 2; a logistic complex and industrial complexes in Brovary.
Dragon Capital Investments Limited is part of Dragon Capital group of companies, founded in 2000 and one of the largest in the Ukrainian investment market. It works in the field of direct investment and financial services, provides a full range of investment banking and brokerage services for corporate and private clients.