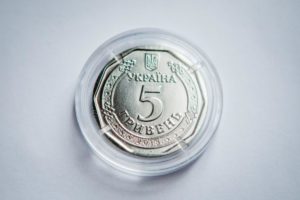 The National Bank of Ukraine (NBU) on December 20 introduced into circulation the upgraded 50-hryvnia bills, as well as 5-hryvnia coins that will gradually replace the respective banknotes, the NBU has reported on its website.
According to the report, first of all, the NBU intends to introduce 5 million of 50–hryvnia banknotes and 5-hryvnia coins. The first batch of means of payment had already been distributed to NBU regional offices.
The NBU has catered to the needs of the public, since customers will not be required to exchange the current 5- and 50-hryvnia bills for new coins and banknotes. No time limits will be imposed on the simultaneous use of new and previous banknotes in payments.
The 5- and 50-hryvnia banknotes of the previous design will be gradually replaced with coins and new banknotes as they wear out. The number of upgraded bills and coins will gradually increase in circulation, depending on the economy's needs, the bank said.
The NBU said that the introduction of into circulation the upgraded 50-hryvnia bills and 5-hryvnia coins is a part of optimizing and upgrading the banknote and coin series of hryvnia.
Since 2014, the NBU has been upgrading the hryvnia and streamlining cash settlements. Optimization of the banknote and coin series of hryvnia is expected to be completed in 2020 after 200-hryvnia banknotes are introduced into circulation alongside 10-hryvnia coins. Due to comprehensive changes, eventually, the hryvnia series will be optimized to 12 denominations. The new denomination series will have six coins (10 and 50 kopiikas, and 1, 2, 5, and 10 hryvnias) and six banknote denominations (20, 50, 100, 200, 500, and 1,000 hryvnias).