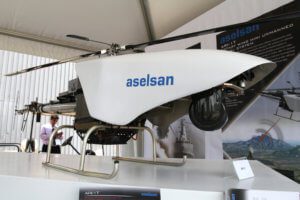 State-owned enterprise Spetstechnoexport and Turkey's defense company Aselsan have signed a memorandum confirming plans to start production of Turkish tactical communications devices in Ukraine. An Interfax-Ukraine correspondent has reported that the sides signed the document at the 15th international specialized exhibition Arms and Security 2018 opened in Kyiv on October 9.
Spetstechnoexport Head Vladyslav Belbas told Interfax-Ukraine that the signed document confirms mutual commitments of the parties outlined in the offset agreement signed by Spetstechnoexport and Aselsan in July in Ankara after a meeting of the bilateral intergovernmental commission for defense cooperation. The details of the project are being approved.
As reported, in October 2017, Aselsan and Spetstechnoexport signed a government-guaranteed contract in Kyiv for the amount of $43.635 million for delivery of tactical communications to be used in the USB band in the interests of the Armed Forces of Ukraine in 2018 as part of the government defense procurement order. According to Ukrainian legislation, purchases of defense imports under the government defense procurement order amounting to more than $5 million provide for the conclusion of an offset agreement.
ASELSAN, COMMUNICATIONS DEVICES, PRODUCTION, TACTICAL, TURKEY