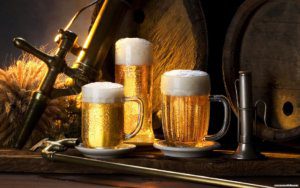 The world's largest brewing group, Anheuser-Busch InBev (AB InBev) and leading Turkish brewer Anadolu Efes have completed the 50-50 merger of their businesses in Russia and Ukraine, AB InBev said in a press release.
The board of directors of the merged AB InBev Efes will consist of an equal number of representatives from both companies. The chairman of the will be Tuncay Ozilhan, chairman of Anadolu Group and Anadolu Efes.
The management team will work under the leadership of Dmitry Shpakov, president of AB InBev in Russia and Ukraine, who will become president of AB InBev Efes. Roy Cornish, the head of Moscow Efes Brewery, will become chief financial officer.
The merged company will have a production network of 11 breweries and three malthouses in Russia, as well as three breweries in Ukraine.
The AB InBev Efes brand portfolio will include both international and local brands: Spaten, Corona Extra, BUD, Velkopopovicky Kozel, Miller Genuine Draft, Hoegaarden, Stary Melnik iz Bochonka, Klinskoye and Bely Medved.
The companies are confident that the combination of their businesses and expertise, diversified brand portfolio and the wide selection of beer that they offer consumers will enable the merged company to ensure growth and take leading positions on the Russian and Ukrainian markets, Shpakov was cited as saying in the press release.
The results of the merged company will be consolidated in the financial statement of Anadolu Efes. AB InBev will not include the results in its global reporting, but will take into account earned profit as a return on investment in the joint venture in line with the size of its equity interest.