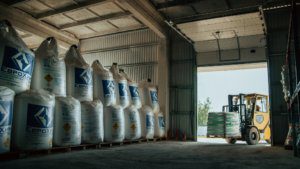 EuroChem Group AG has invested more than UAH 11.6 million in the launch of production of Entec Solub high-tech fertilizers in Ukraine, the company's press service has reported. "On April 3, 2018 EuroChem Group AG produced the first batch of Entec Solub, water-soluble fertilizers with a nitrification inhibitor, in Kremenets (Ternopil region). For its production the company completely converted and resumed its production base, purchased and installed a production line for more than $438,000," the report says.
In general, according to the company, in 2016-2017 EuroChem invested more than $4.128 million in the development of production sites, four large warehouses of mineral fertilizers and agro-centers in Kazatyn, Buryn, Balakleya and Kremenets.
Over the same period, more than UAH 2.263 billion of taxes and fees were paid to the budgets of all levels.
EuroChem Group AG is the leading fertilizer producer in the world. It mainly produces nitrogen and phosphate fertilizers, as well as organic synthesis goods and iron ore concentrate. The head office of the group is located in Zug, Switzerland, while manufacturing facilities in Belgium, China, Kazakhstan, Lithuania and Russia, and the distribution network in Europe, the CIS, Asia, and South America.