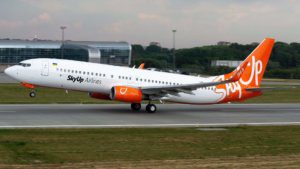 SkyUp airline plans to expand its own fleet by two new medium-haul Boeing 737-700s by the end of 2018, as well as to get one wide-body Airbus A330 into wet leasing. "In the near future, we expect to get the second airplane [Airbus A330], just like our first one, into wet leasing. Sky Up will not operate in a "dry" form wide-body aircraft in the next two or three years. This is outside the company's strategy," Commercial Director of Join UP! tour operator Oleksandr Alba said at a press conference in Kyiv.
According to him, this year the company will replenish its own fleet of aircraft with two Boeing 737-700s, one of them will be received in the near future, the second one by the end of 2018.
He said now Sky Up planes perform flights to Turkey, Egypt, Tunisia, Albania, Georgia, and Montenegro.
"In the near future we will open sales on domestic flights, as well as on regular foreign flights," he said, adding that the launch of regular flights is expected by the end of this summer.