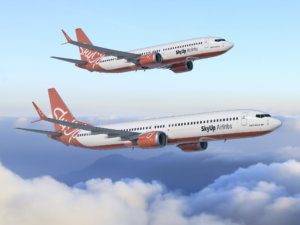 SkyUp airline is studying the possibility of involving Ukrainian-made aircraft for domestic flights, the co-founder of the airline Yuriy Alba said at a press conference on Tuesday.
"We held the first round of negotiations under the auspices of Minister of Infrastructure [Volodymyr] Omelyan, and we met with the Antonov's chief designer regarding the possibility of operating our domestic aircraft on domestic flights. We are now in active correspondence with the design office, collecting data to analyze the technical and economic characteristics of domestic planes. We also want to analyze the material base and training centers that train pilots for the operation of Antonov [aircraft]. We will soon be able to understand how fruitful cooperation with the domestic producer will be," Alba said.
As he said, now the airline owns two Boeing planes, which the company has received in leasing. In the future SkyUp plans to expand the fleet by 10 aircraft.
"As for the deal with Boeing, we will decide on the financing issue together with the corporation. We are attracting funding from our tourism partners for the start. When we provide the first guaranteed payment, a joint trip will take place with representatives of the corporation to leading U.S. banks that will provide us with grant for obtaining loans from the World Bank," Alba said.
According to him, the first part of the advance payment has already been made, further payments will be made annually according to the schedule.
"The prepayment was $4 million. It included contracts for the supply of five aircraft in 2023 and five aircraft in 2024. Also this advance payment included the signing of a contract for the leasing of current aircraft that had transferred from Malaysian Airlines and that are now servicing private flights for a tour operator," the SkyUp co-founder said.
He added that the foreign partners of the company are engaged in financing the newly created airline.