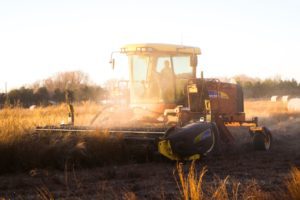 The voluntary restructuring of feed-in tariff in wind energy is possible subject to other market reforms, according to a letter from foreign developers of large wind farms, namely NBT, Windkraft Ukraine, LongWing Energy, Greenworx Holding and Akuo Energy, which was sent to President of Ukraine Volodymyr Zelensky in late October.
According to the document, the restructuring may concern new wind farms or expansion of existing facilities, which will be commissioned on the basis of preliminary electricity sale and purchase contracts signed by the end of 2019, with the exception of projects or their stages being under construction or already having a financing agreement.
As an example, wind farm developers are considering a 5.0–7.5% reduction in the feed-in tariff rate for the wind farm project portfolio with a capacity of 1.9 GW compared to the feed-in tariff defined for wind farms for 2020–2022 in exchange for extension of the term of electricity sales contracts up to 15 years from the date putting wind farms into commercial operation.
At the same time, the authors of the letter oppose retrospective changes in the renewable energy market, drawing the head of state's attention to the fact that the consequences of this option will be the loss of about $2.5 billion of direct investment, as well as the exit from the sector of foreign investors. According to the companies' estimates, foreign investment in wind energy has already reached $1.2 billion, and an additional $2.5 billion is planned for the next three years.
In their opinion, the consequences of any retrospective changes to the previously approved by the law schemes for supporting wind energy incentives will be more significant than the problem of financing Guaranteed Buyer state enterprise.