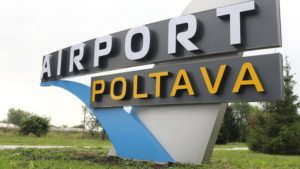 The Poltava international airport plans to develop a freight terminal, the airport as reported on its website.
Acting Director General of municipal enterprise Airport Poltava Volodymyr Okara and a representative of Umbrella Group Taras Shebediuk signed a memorandum of cooperation to develop the freight terminal at the airport on October 21.
The memo is intended to attract investors for building the freight terminal, which will become the important infrastructure facility for strategic development of the airport.
The parties emphasized their interest in ensuring that the airport is focused not only on passengers, but also on freight transportation.
According to Okara, Bulgarian and German investors became interested in the development of the Poltava airport. In addition, the airport had previously signed a memorandum of cooperation with a Lithuanian company for the construction of the freight terminal.
In addition, it is reported that in November, private airline Ukrainian Helicopters will begin to be based on the territory of the Poltava airport: the contract is unlimited and involves permanent deployment. For providing the site, the airport will receive UAH 150,000-250,000 monthly depending on operations.
Previously, the base of Ukrainian Helicopters was located in Kremenchuk (Poltava region).