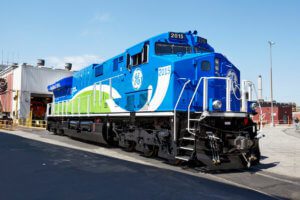 General Electric Transportation with 10% participation of Kriukov Car Building Works (KCBW) at the end of 2018 will start delivering 30 TE33A locomotives of Evolution series to Ukrzaliznytsia in line with the earlier approved program of localization of locomotive production in Ukraine, acting Ukrzaliznytsia Board Chairman Yevhen Kravtsov wrote on his Facebook page on Tuesday. "Ukrzaliznytsia jointly with GE Transportation gives green light to the program of localization of locomotive production in Ukraine. Personally for me this is a large victory and the landmark for Ukrainian railways and the entire sector. Localization at the initial stages was the key principal moment during the negotiations with GE. I can say that neither in India nor in Kazakhstan the similar contract does not envisages the localization from the first sample. First TE33A locomotives of the Evolution series will be made with participation of KCBW," he said.
Kravtsov said that for the first locomotives the Ukrainian contract provides for 10% of localization. Later the locomotives will be consisted of at least 40% of Ukrainian spare parts.
"Now General Electric is selecting the production facilities among Ukrainian enterprises. We also plan to create a center for servicing and modernizing the operating locomotive fleet," Kravtsov wrote.
He said that a batch of locomotives, which General Electric will deliver in cooperation with KCBW is the largest one during Ukraine's independence. "The final stage of locomotive production for Ukrzaliznytsia has started in Pennsylvania. At the end of 2018 we would receive first diesel locomotives adapted to our climate, environment-friendly, effective in servicing, comfortable and safe for locomotive crews," Kravtsov said.