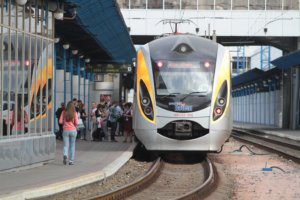 Public joint-stock company Ukrzaliznytsia has announced that China Eximbank and Industrial and Commercial Bank of China are ready to invest in the development of Ukrainian railway infrastructure, increase of its quality and the speed, according to a posting on the website of Ukrzaliznytsia after the discussion of issues of developing high-speed railway traffic and the upgrade of Ukrzaliznytsia's rolling stock jointly with representatives of Chinese banks and railway companies in Kyiv. Ukrzaliznytsia reported that representatives of Chinese railway companies expressed their desire to find a successful economic model for promoting high-speed traffic in Ukraine.
"China's Eximbank and Industrial and Commercial Bank of China will be willing to invest in the development of Ukraine's railway infrastructure, improving the quality of its use and speed," Ukrzaliznytsia said. Welcoming colleagues from China, acting Board Chairman Yevhen Kravtsov said that their readiness for dialogue testifies to the seriousness of their intentions.
"The construction of a high-speed railway line was discussed at the level of the ministry, and today we see the construction of this line as a national project. I see a great potential in it, but Ukrzaliznytsia's own funds are not sufficient for its implementation," Kravtsov said.
He said that Kovel, Lviv and Mukachevo are promising points for connecting them with European narrow gauge track, and this is a realistic project for Ukrzaliznytsia in the coming years. Kravtsov also invited Chinese companies to participate in the tender for the electrification of the Dolynska-Mykolaiv-Kolosivka line.
The meeting was attended by representatives of Chinese companies: China Road And Bridge Corporation, China Railway Construction Corporation International Limited, China Railway Siyuan Survey and Design Group, China Railway Engineering Co., Ltd., China Railway International Group and China Railway Limited Group.