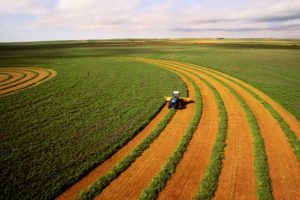 The International Finance Corporation (IFC) has said the international crop receipts could be launched in spring 2019, IFC Project Manager for Ukraine Crop Receipts Helen Fairlamb said at a roundtable in Kyiv on Wednesday.
The IFC has already conducted the first trainings for farmers and hopes to see the first deals in the spring, Fairlamb told Interfax-Ukraine.
As the IFC said, after the entry into force of the law on currency and foreign exchange transactions, farmers can raise funds on crop receipts from nonresident creditors. According to the international receipts mechanism developed by IFC, such transactions will include a financial crop receipt and a loan/forward contract or an import contract.
Crop receipts are particularly relevant in Ukraine, where the land moratorium still exists, and farmers do not have a quality guarantee to attract financing. In addition, crop receipts are registered in the online register, and the lender can see how many receipts the farmer has and performs, Regional Manager for Belarus, Moldova and Ukraine at IFC Jason Pellmar said.
He added that crop receipts help farmers create a credit history to further raise funds.
According to the IFC, under the crop receipts project, it is also planned to modernize the legislation to create a secondary market for crop receipts (securitization).
Member of the Board of OTP Bank Alla Biniashvili said that for banks providing financing on crop receipts, the difficulty is that the National Bank considers these loans as unsecured.
The total amount of crop receipts in 2018 exceeded $200 million (UAH 5.24 billion). In total, 669 crop receipts were issued from 53 lenders for 1.1 million tonnes of agricultural products used as collateral.
From the beginning of 2019 as of February 12, 2019, a total of 104 receipts were issued to the amount of over UAH 1 billion.