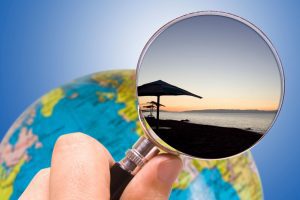 During his working visit to Spain, Minister of Foreign Affairs of Ukraine Dmytro Kuleba has discussed with Secretary General of the UN World Tourism Organization Zurab Pololikashvili the prospects for Ukraine's interaction with the Organization, involving the organization's mechanisms in the development of the tourism industry in Ukraine.
"They paid main attention to the consequences of the COVID-19 pandemic for the tourism industry, its adaptation to new realities. Kuleba noted that the pandemic has not only obvious negative consequences for tourism, but also unexpected new opportunities. In particular, in Ukraine, such circumstances gave impetus for domestic tourism, aroused people's interest in traveling inside their own country," the press service of the Ukrainian Foreign Ministry said on Friday morning.
Pololikashvili noted that now this trend is observed everywhere, and the organization sees in it new opportunities for the global development of domestic and rural tourism.
The head of the Ministry of Foreign Affairs of Ukraine proposed to hold an international tourism forum of the World Tourism Organization in Ukraine, dedicated, in particular, to the topic of domestic and green tourism in the countries of the world.
"I have no doubt that Ukraine will become a new territory on the map of world tourism, which foreigners will be happy to discover for themselves as something new. The development of domestic tourism is a priority of President Volodymyr Zelensky and the government of Ukraine. I want us to join forces on the WTO to achieve this goals," said the minister.
According to Kuleba, it is worthwhile, without waiting for the end of the pandemic, to actively seek new forms and methods of tourism development, given the importance of the tourism industry for the world economy.
The Minister invited the Secretary General of the UN World Tourism Organization to pay a visit to Ukraine.