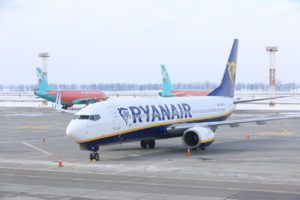 Irish-registered low-cost airline Ryanair (Dublin) transported 500,000 passengers from and to Kyiv's Boryspil international airport since September 2018 and plans to double this figure until the end of 2019. This was announced by Olga Pawlonka, Ryanair's international communications manager during the welcoming ceremony of the 500,000th passenger at Boryspil on Friday, an Interfax-Ukraine correspondent said.
"We are developing at a very fast pace in Ukraine. We are thinking about opening directions from all cities of Ukraine. From winter there will be two new routes from Kharkiv, five new ones from Odesa. From the end of October, we will launch seven new routes from Kyiv. Now there are 17 routes from Kyiv , but from winter their number will be 24," she noted. At the same time, answering a question about the possible opening of a representative office in Ukraine, Pawlonka said that this was impossible. "As Ryanair is a low-cost company, there is only one office in Dublin, from which operations around the world are handled. That is why it is impossible. This is impossible without value increase," she explained.
As reported, Ryanair in May 2019 launched the Ukrainian version of its official website.