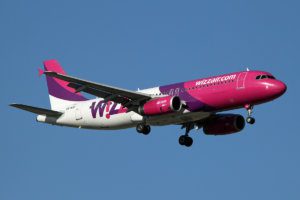 The Hungarian low cost carrier WizzAir in Ukraine plans to launch flights on two new directions – from Krakow (Poland) to Kyiv from April 5 and Kharkiv from September 16, 2019.
"Two new Airbus A321 aircraft will support the work of twelve new routes from Krakow to London, Kyiv, Bari, Catania, Larnaca, Nice, Turku, Billund, Doncaster, Kharkiv, Oslo, and Kutaisi," the airline reported.
According to information on the company's website, flights to Kyiv will begin from April 5, 2019, to Kharkiv from September 16, 2019. The schedule for both flights is available until October 25, 2019, prices start from UAH 609.
Kyiv-Krakow-Kyiv flights will be operated on Mondays, Wednesdays, Fridays and Sundays (departure to Krakow at 18:15, back at 19:20 local time), Kharkiv-Krakow-Kharkiv flights on Mondays and Fridays (departure to Krakow at 17:45, back at 14:05 local time).