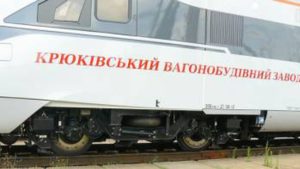 Kriukov Car Building Works (KCBW, Kremenchuk, Poltava region) tentatively produced marketable products worth over UAH 8 billion in 2019, which is 43.7% more than a year ago, Chairman of the enterprise's supervisory board Volodymyr Prykhodko has said.
"According to current data, we have manufactured marketable products worth more than UAH 8 billion. The growth rate compared with 2018 is 143.7%, the sales rate is more than 157%," he said in an interview with the corporate newspaper posted on the company's website.
According to Prykhodko, 5,280 freight cars were assembled over the past year and this is 43.2% more than a year earlier (3,686 units).
"The plant worked all year with full load, twice we raised wages… The average salary reached UAH 16,500. Not all industrial enterprises of Kremenchuk managed to stay at that level," the head of the supervisory board said.
Some UAH 715.7 million of taxes were paid to the budget and funds, including UAH 162.4 million to the local budget.
Prykhodko said that the goal of the enterprise for 2020 is to maintain the position of 2019 and increase the share of exports (he did not give a share for 2018).
He also said that in 2020 the KCBW intends to double (up to 6) the number of developments in the field of new technology, and plans to create an independent testing center on the basis of the existing one.
He also announced plans to double investment in enterprise development, without specifying the figure.