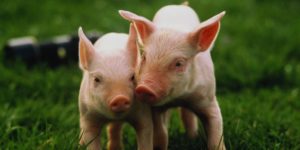 KSG Agro plans to build a sow farm for UAH 11 million at its pig complex in 2019, the press service of the company has told Interfax-Ukraine. "In 2019, the construction of a new sow house for 714 heads is planned, the planned investments are UAH 11 million," the company said.
According to the company, in 2018, KSG Agro began the reconstruction of infrastructure facilities adjacent to the pig complex. In particular, the company began construction of a sewage pumping station, investing UAH 2.5 million in equipment. Also, the agricultural holding in 2018 invested UAH 1 million in equipment for the agricultural waste incinerator for securely disposing of pig waste.
According to KSG Agro, infrastructure investments have allowed the company to increase sales of pig products in monetary terms to UAH 403 million (a rise of 6.3% compared with 2017).
"The stake on the reconstruction of pig-breeding capacities hit the target. Throughout last year, the volume of consumers' applications steadily exceeded our production capacity. As a result, the average sales price exceeded the same indicator in 2017 by 16.5%, amounting to about UAH 44 per kg," Board Chairman Serhiy Kasianov said.
At the same time, in quantitative terms, the agricultural holding reduced sales to 93,000 heads (in 2017 it was 106,500 heads). According to the company, the average annual number of pigs in 2018 at the pig farm in the village of Nyva Trudova in Dnipropetrovsk region there was about 55,000 pigs.
KSG Аgro is a vertically integrated agricultural group, working in almost all the segments of the agricultural market, including the production, storage, processing, and sale of agricultural products.