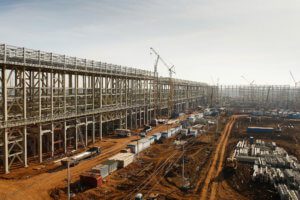 Ukrainian President Petro Poroshenko has met with Chief Executive Officer of Head International Holding GmbH and former Special Representative of British Prime Minister Gordon Brown Johan Eliasch who announced the decision to build the largest production in Ukraine, Vinnytsia region. "I want to congratulate you on this important decision. This is the right step of Head company. Your company coming to Ukraine is a unique combination of the potential of our country and your company," the president said.
In turn, Eliasch thanked the president for having him and shared impressions from the changes in Ukraine. He also commented on his decision to invest in our country: "We carried out a thorough analysis not only in Ukraine, but also in other countries. I think Ukraine offers the best opportunities for the competitive production in this part of the world, even better than in China."
The Head executive director said he was impressed with the development of Ukraine. "The fact that you invest 5-7% of GDP in the defense sector is good. This guarantees political stability. It is impressive how you settle the situation with Russia. The agreements you reached with the EU are good, too," he said.
According to him, the British government actively supports the development of relations and trade between our countries. "The more we do to support the British business in Ukraine, the better. First of all, it concerns the conclusion of the FTA agreement," he stressed.
Poroshenko thanked Eliasch for the decision to found the production of his company in Ukraine.
The president emphasizes that the international organizations, starting with the IMF, World Bank, EBRD and others, noted that Ukraine had introduced more reforms over the past four years than in previous years of independence.
"I think it is extremely important to have such solidarity as the European Union, the United States of America demonstrate with regard to Ukraine. And also transatlantic solidarity, especially from the United Kingdom," the Head of State said.
Poroshenko also stressed that the Ukrainian authorities were taking all necessary measures to improve the investment climate and maximize the attraction of foreign investors to the Ukrainian economy. "I am glad that your first impressions from the first steps in Ukraine demonstrate that our efforts bring really positive results," the president said.
Head UK Ltd. is one of the world's leading manufacturers and sellers of sports equipment and clothing. The company's business includes five divisions: winter sports, racket games, diving, sportswear and licensing. The trademarks of the company are HEAD, Penn, Tyrolia, Mares, SSI, and rEvo.