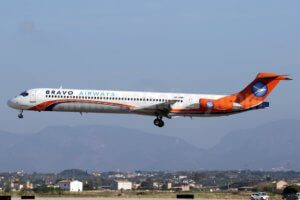 Bravo Airways will launch regular flights to Lublin from Kyiv, Kharkiv and Kherson from June 15, 2018. "We open new flights to Lublin from June 15, which will allow in 1.5 hours safely, comfortably and without changing to get from the airports of Kyiv, Kherson and Kharkiv to Lublin and back," the airline said on Facebook.
The cost of flights starts from UAH 1,300. The fare also includes transportation of hand luggage and the ability to carry up to 23 kg of luggage free of charge. Regular flights will be available to both directions three times a week from Kyiv and Kherson and twice from Kharkiv.
As reported, earlier Bravo Airways launched charter flights from Kherson to Dalaman (Turkey). Bravo Airways was founded in April 2012. Its core business is passenger transportation on regular and charter routes. Since its founding, Bravo Airways has transported more than 500,000 passengers. The aircraft of the airline are based at Kyiv Zhuliany International Airport.