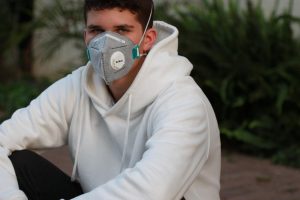 In Ukraine, law enforcement officers and authorized persons from now on, November 21, have the right to fine citizens for not wearing a mask in public places.
Law No. 1000-IX with amendments to the Code of Administrative Offenses of Ukraine regarding the prevention of the spread of coronavirus disease (COVID-19) was adopted by the Verkhovna Rada on November 6. Ukrainian President Volodymyr Zelensky signed it on November 19, and on November 20 it was published in the parliamentary newspaper Golos Ukrainy.
According to the law, people will be fined for being in public buildings, structures, public transport during the quarantine without wearing personal protective equipment, including respirators or protective masks that cover the nose and mouth, including those made by themselves. At the same time, the law stipulates that a respirator or protective mask must cover the nose and mouth.
The size of the fine will be from 10 to 15 non-taxable minimum incomes of citizens (UAH 170-255). Fines can be imposed by authorized representatives of local authorities, police officers, as well as employees of the State Sanitary and Epidemiological Service.