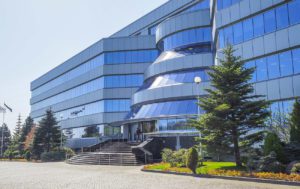 Myronivsky Hliboproduct (MHP) based on a preliminary estimate of results for the full year 2019, expects that earnings before interest, taxes, depreciation and amortization (EBITDA) is to be some 15% lower than the company's previous guidance of $450 million provided in September 2019. According to a company report posted on the website of the London Stock Exchange (LSE) on Thursday, Three factors contributed to the weakening of profitability in the fourth quarter of 2019.
"[It is] strengthening of the Ukrainian hryvnia – as 54% of the company's revenues are denominated in U.S. dollars, whereas most costs are incurred in UAH, the 13% strengthening of the UAH in Q4 2019 adversely impacted profits, primarily in grain growing operations (accentuated by the seasonality of operations with major expenses incurred in H1 2019)," the company said.
In addition, weak export prices – prices of chicken exports (mainly to the EU) and crops (especially corn) decreased substantially also affected the EBITDA decline. The third factor is the ban on exports to KSA – since September 2019, MHP has been banned from exporting poultry to Saudi Arabia, one of the company's largest` export markets. MHP said that on 29 January 2020, KSA reopened its market to the import of Ukrainian poultry products (excluding products from the Vinnytsia region).
"Despite this, MHP ended the year with net debt at US$1,143 million and more than $300 million in cash. With no major debt facilities maturing until 2024, very limited short-term borrowings (around 2%) and a modest CAPEX program, it remains MHP's policy to maintain robust cash reserves that are not materially affected by the weaker than expected financial performance," MHP said.
The company said that the 2019 dividend is subject to the board of directors' decision, however, taking into account the lower results, dividends are expected to be lower than last year.