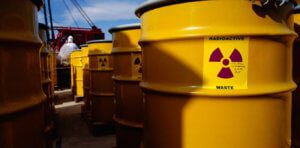 National Nuclear Generating Company Energoatom has signed a contract with Orano (earlier Areva, France) to assess the possibility of the practical implementation of services to reprocess spent nuclear fuel assemblies from Ukrainian reactors of VVER-1000 type at the French La Hague Reprocessing Plant. "This contract marks an important step for Orano. It is a real success for us. It will pave a way for treating Ukrainian spent nuclear fuel by the French reprocessing sector," the press service of Energoatom reported, citing Senior Executive Vice President of Orano's Recycling Business Unit Pascal Aubret.
Energoatom said that after producing electricity in a power reactor, the spent fuel contains 96% of recyclable materials and 4% of final waste. The process implemented at Orano's La Hague plant separates the reusable materials, which will once again be used to produce energy, from the final waste which undergoes safe and stable conditioning and packaging.
According to an announcement of Energoatom in the ProZorro e-procurement system, the cost of the contract signed with Orano Cycle is EUR 1.395 million. The company is to finish the study before December 31, 2020.
At present, Energoatom sends spent nuclear fuel for reprocessing to the Russian Federation. At the same time, there is the problem of handling VVER-1000 spent fuel from Westinghouse. So, while carrying out research on the possibility of processing Westinghouse spent nuclear fuel, information about the design of fuel assemblies is used. Westinghouse agreed to provide relevant information only to Areva.