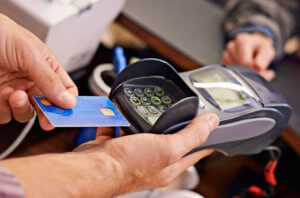 State-controlled Oschadbank (Kyiv) has launched the Apple Pay payment service, chairman of the financial institution Andriy Pyshny has reported.
"Oschadbank the fastest in Europe several months ago integrated Google Pay. It has already launched Apple Pay. The future is in smartphones!" he wrote on his Facebook page.
He said Apple Pay is based on security and confidentiality.
"If you add a credit or debit card to Apple Pay, the card number itself is not stored in either the device or Apple servers. You are assigned a unique account number for the device, while it is encrypted and stored in a secure mode in the microchip "Secure Element" of your device. Each transaction is due to the generation of a unique one-time dynamic security code," he said.
According to Pyshny, to use the possibility of paying with an iPhone, it is not necessarily to have an Oschadbank card: just call the contact center of the bank and get an instant digital prepaid card. It can be connected to Apple Pay and they you can use the application.
According to the press release of Oschadbank, one can pay with Apple Pay in stores using iPhone SE, iPhone 6 and newer models, and also with Apple Watch.