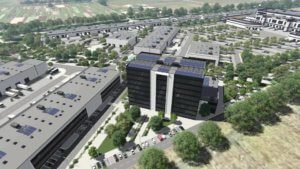 The PR Group (Lviv), implementing a project on construction of the Sigma Park Yarychiv industrial park in Lviv region, plans to build at least 10 industrial parks with a gross area of almost 2,000 ha in two years and enter the Frankfurt Stock Exchange and the Singapore Exchange (SGX). "In addition to the park in Yarychiv, there will be 10 more industrial parks. The largest project for 560 hectares is located on the border of Lviv region in Rivne region. In Yarychiv there will be the smallest one – 15.7 hectares. In general, the entire portfolio of industrial parks is designed for almost 2,000 ha. We are planning to start all projects in two years. We are trying to make a stake on the social component. One of the projects will be located near Chervonohrad, Sokal, where the mines are closed and new jobs need to be created," Managing Partner and co-owner of PR Group Roman Protsak told reporters on the sidelines of the Industrial Development and Construction Forum in Kyiv.
He said that the development company PR Development, which is part of the group, accompanies development of industrial parks. All the facilities will be united under the Sigma Park joint brand with the prefix of the name of the settlement near which they are located. This year, the company plans to provide two industrial parks for registration at the Ministry of Economic Development and Trade, and in 2019 to launch Sigma Park Yarychiv.
"There are already participants interested in locating their production facilities. Negotiations are currently under way with 48 companies. We will attract them on competitive terms. Each of them will present a development plan for the next 10 years, including offering the best conditions for employees' salaries, Protsak said.
According to him, in August-September, the company will announce a tender for occupying land parcels in Sigma Park Yarychiv, in which only the food industry will be represented. The implementation of this project (greenfield) is at the utilities design stage. In other parks, the automotive, pharmaceutical, and other industries are located.
"We are currently using our own funds. We are not attracting credit resources, but we plan to enter foreign markets to raise funds through the sale of bonds… There are plans for two platforms – Frankfurt, Singapore and possibly additionally Warsaw. We plan to enter them in 2019-2020. One of our investment funds that deals with real estate in Ukraine and abroad will enter [the exchanges]," the co-owner of PR Group said. He said that the company had previously specialized in the construction of residential real estate, but three years ago, the co-owners decided to switch to commercial and industrial real estate.
FRANKFURT, INDUSTRIAL PARKS, OWNERS, SIGMA PARK, SINGAPORE, YARYCHIV