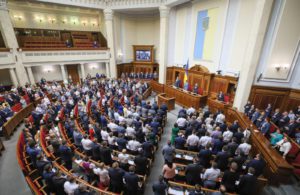 Ukraine's Verkhovna Rada has passed at first reading bill No. 1056-1 on protection of ownership rights, ceasing activities of accredited entities in the sphere of public registration of ownership rights. As an Interfax-Ukraine correspondent reported, bill No. 1056-1 at the plenary meeting on September 12 was supported by 327 MPs.
"The bill is aimed at providing additional guarantees for the protection of ownership rights in Ukraine, and provides for the removal from the market of the so-called accredited entities – nongovernmental organizations that regularly, unfortunately, performed the functions of "black registrars" and were one of the elements of criminal schemes," one of the initiators of the bill, MP Olena Shuliak (the Servant of the People parliamentary faction) said.
The document also introduces the principle of simultaneous notarization of a legal act and public registration of emerging rights, and obliges to notarize certificates on disposing corporate rights.
In addition, the bill provides for increased liability for violations of registration procedures.