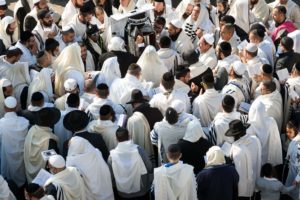 Nearly 25,000 Hasidim arrived to Ukraine to celebrate Rosh Hashanah (Jewish New Year) 5780, which is celebrated from September 29 through the evening of October 1 this year, according the Jewish calendar.
As a press service of the State Border Guard Service reported on Saturday, for the last 24 hours border guards registered arrival of 5,687 Hasidic pilgrims, who were seeking for entry to Ukraine.
Overall, border guards at the checkpoints in Kyiv, Odesa, Vinnytsia and on the borders with Poland, Slovakia and Romania have already documented the arrival of 24,782 pilgrims in the prescribed manner.
Since the beginning of the arrival of Hasidim from September 6, State Border Service officials refused entry to eight Israeli citizens due to the lack of necessary documents and a ban on entry to Ukraine during a previous visit.