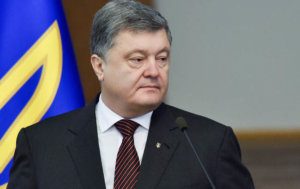 President of Ukraine Petro Poroshenko has said that during his official visit to Qatar intensive negotiations have taken place resulting in a number of extremely important agreements.
"I am confident that it is a powerful impetus that significantly intensifies Ukraine's cooperation with the Gulf countries, particularly Kuwait and Qatar," the president's press service quoted him on Tuesday.
The president says that Qatar is investing money now to ensure the diversification of food security and Ukraine plays an extremely important role here. According to him, unique opportunities are opening up for us.
"Ukrainian enterprises are represented here on the Qatar International Agricultural Exhibition 2018. We met with both business representatives of Kuwait and Qatar. We expanded extraordinary opportunities for possible investments both in Ukraine and in Qatar," Poroshenko said.
According to him, Ukrainian constructors are waiting for the reconstruction of infrastructure in preparation for the FIFA World Cup 2022, which will be held in Qatar. In particular, hotels, stadiums, traffic junctions will be built. He expressed confidence that in the near future, several well-known Ukrainian companies would take part in the tenders.
"A number of extremely important documents have been signed. In particular, documents on investment promotion – mutual protection of investments and avoidance of double taxation," the president said.
He also informed that an "ambitious document" on military-technical cooperation had been signed. He added that the scope of bilateral cooperation with Qatar in the defense industry would be very broad. "I am very pleased with the results of these talks," he said, adding that in the near future there would be visits of groups that would work out specific areas of cooperation.
The president also announced the establishment of an intergovernmental joint commission on economic, trade and technical cooperation. He said that he had reached an agreement with the Emir of the State of Qatar that the first constituent meeting of that commission would be held in a few months.
Poroshenko also noted that the Memorandum of Understanding between Taras Shevchenko National University of Kyiv and the Qatar University had been signed, providing for the exchange of students and lecturers.
Also, the parties discussed the possibility for Ukrainian military and diplomats to study Arabic language in Qatar.